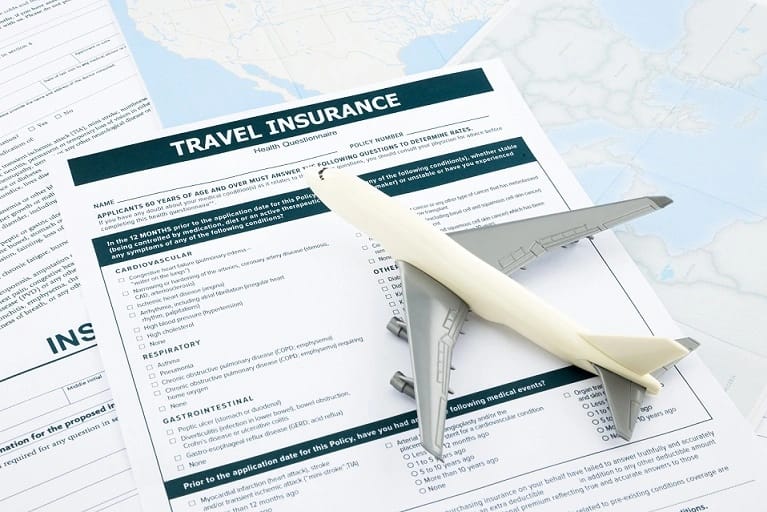 Travel insurance is an important aspect of traveling to far-away destinations. Whenever you pick a destination outside your country, you must be aware of the fact that your standard health insurance may not be effective and protect you in an unfamiliar land. Every country has a distinct healthcare system- some may be complex and confusing, while some can be expensive. If you are traveling to and from the US, carrying a travel insurance policy is always recommended.
Travel insurance is broadly classified as two types- travel medical insurance and trip cancellation insurance (also referred to as travel insurance). Travel medical insurance plans focus mainly on the medical needs of travelers and may offer limited trip-related benefits. On the other hand, trip cancellation plans focus on travel-related benefits and offer limited emergency medical benefits.
When is the best time to buy travel medical insurance?
Travel medical insurance, also known as visitor health insurance, is designed for travelers coming to the US or traveling outside the country of residence. These policies can be purchased by anyone who needs coverage while traveling outside their country of residence or country of citizenship. US citizens, residents, and green card holders living in the US may not be eligible to buy these plans if the country of residence is the US and coverage is needed in the US. When you are planning a trip to the US, you must buy a comprehensive insurance plan owing to the medical expenses in the US. Visitor insurance can be purchased anytime- before and after your departure.
There is no strict rule in maintaining a period of buying a visitor health insurance plan. However, it is always suggested to buy a policy before departure or at least a few days prior to travel so that you can review the plan's document and understand what it covers and what it does not cover. Many policies have a 15-day free look period where you can cancel the plan if you feel that the schedule of benefits is not meeting your traveling needs. You can select another plan before you start the trip. This, however, will involve canceling the previous plan and then applying for a new plan depending on the cancellation policies of the plan you signed up for.
When you buy a plan after coming to the US, you can still enjoy the benefits. As every policy differs in coverage, cancellation, and refund, it is wise to review the brochure before further proceedings.
When is the best time to buy trip cancellation insurance?
Trip cancellation insurance is designed for US citizens and residents taking domestic or international trips. When you are planning a trip inside the US or outside the country, you can buy a trip cancellation policy. It must be bought as soon as you make the first deposit for your trip. The plan covers non-refundable insured trip costs, including flight fare, accommodations, cruise booking, rentals, pre-booked events, and more.
You can choose a 15-day window to buy a travel insurance plan as it will help you understand the policy's benefits and limitations. Trip cancellation insurance cannot be bought after you leave for your destination. It offers coverage to trip cancellations, trip delays, trip interruptions, baggage delays and personal loss, theft and damage to rental cars, emergency medical expenses, and more.
Insured will be covered for trip cancellations, trip delays, and trip interruptions only for the covered reasons as mentioned in the policy. The covered reasons can differ in each plan, so it is recommended to review the plan's brochure. You can upgrade your plan to Cancel for Any Reason (only if the plan has the optional benefit) with an extra premium.
Why is buying early always advised?
Helps you in making the right decision.
Whether you buy a travel medical policy or trip cancellation policy, the sooner you buy, the more you have peace of mind. Buying a policy at the last minute can rush to make a wrong decision. You may choose a plan that may not be beneficial for you during the vacation. Moreover, there are several types of coverage, sub-limits, limitations, and exclusions. It may take you some time to figure out what meets your traveling and medical needs.
May support pre-existing condition waiver.
Travel medical insurance pays for hospital and doctor bills, lab work, medicine, diagnostics, and other medical services, up to your policy limits, if you are injured or become ill on your trip. However, pre-existing medical conditions are not covered unless you have a pre-existing medical exclusion waiver. Generally, you get a pre-existing medical condition exclusion waiver only within 14 to 21 days (about 3 weeks) of making an initial deposit for a trip and after insuring the full nonrefundable costs of a trip.
Gives you optional upgrades.
Standard trip cancellation travel insurance compensates prepaid, non-refundable trip expenses, such as airfare, hotel stays, and activities that were booked in advance, if your trip is unexpectedly canceled for a reason listed on your policy. If you want an escape no matter what, consider adding "cancel for any reason" coverage to your travel insurance plan.
The 'cancel for any reason' upgrade is available when purchased at the time of the initial plan purchase and within 15 days (about 2 weeks) of the initial trip payment. The coverage typically reimburses 50% or 75% of nonrefundable trip costs provided the entire trip cost has been insured. Like "cancel for any reason" upgrades, you can also buy IFAR (Interruption for Any Reason) coverage within the first 15 or 20 days (about 3 weeks) of your first trip deposit. It also reimburses up to 75% of insured trip costs.
Not all policies will offer you upgrades. Choose a plan that will meet these criteria.
You get a review period.
Some travelers may buy a plan but wish to cancel it and receive a full refund of their plan. They may do so within a stipulated number of days from the date of purchase, which is often referred to as a "free look" period. While the time limit for the free look period varies but it is mostly 14 days (about 2 weeks) from purchase.
You make no regrets.
If there is a change in itinerary, you can make adjustments to a travel insurance policy by requesting a plan change. You can request a change in travel dates, update trip costs and pay the additional premium.
Conclusion
The preferred time to buy a travel insurance plan solely depends on you and how much risk you want to take before traveling. To know more about these policies, visit our site. You can find various visitor health insurance plans and trip cancellation plans and details about them. To buy one, call us!