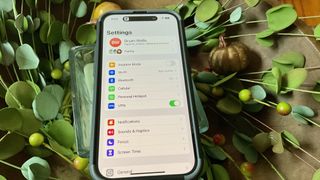 (Image credit: iMore)
iOS 16 hasn't been the smoothest one of the lot, and we're now nearing the end of the update cycle on it. Apple recently pushed out iOS 16.4.1, with a few bug fixes, and the update is now seeding out to iPhones all over the world. Following the update, Apple has stopped signing the older iOS 16.3.1.
At the time of writing, iOS 16.4, and iOS 16.5 beta is still available for downgrade, but iOS 16.3.1 has become the latest software version that Apple has stopped signing. Apple is known to stop signing older versions of iOS as newer ones are released.
iOS 16.4.1 is now available
iOS 16.4.1 is now available, making it the latest iOS 16 version. The official changelog doesn't list too many changes.
"This update provides important bug fixes and security updates for your iPhone including:
Pushing hands emoji does not show skin tone variations
Siri does not respond in some cases"
This update follows iOS 16.4, which brought in a bunch of features, including new emojis, Safari web push notifications, HomeKit architecture upgrade, improved precision for Emergency SOS via satellite, and more. iOS 16.4.1 is a much smaller iterative upgrade. iOS 16.4 remains available for downgrade, just in case you don't like iOS 16.4.1 post update.
iOS 16.3.1 will be unavailable for downgrade henceforth, however. Apple has also stopped signing iPadOS 16.3.1, tvOS 16.3.2, and audioOS 16.3.2.
iOS 16.4.1 is likely to be unsigned soon as well. Apple had also recently delivered iOS Security Response 16.4 (a) as a part of its new Rapid Security Response program. That one, however, is likely to have been another test. There was a kernel-level security exploit that seems to be fixed with iOS 16.4.1.
Users can still downgrade from iOS 16 to iOS 15, however, as the company continues to provide security patches to iOS 15.7.